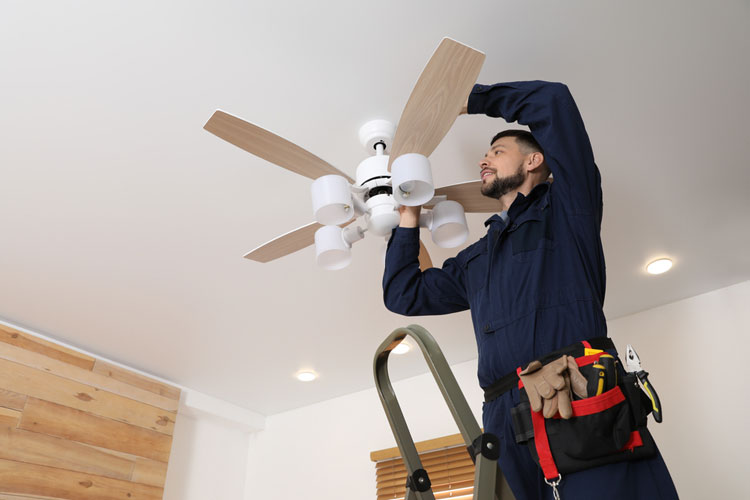 Ceiling Fan Installation
Ceiling fans are an excellent addition to any home. They provide both enhanced comfort and aesthetics for a home or business. When it comes to installing any ceiling fan, a homeowner will need the technical knowledge of an electrician. Furthermore, with any installation that involves electricity, there is a danger; therefore, it is recommended that you find an expert at installing ceiling fans efficiently. You can count on ECO Home Builders for professional ceiling fan installation, replacement, and repair services.
Why Hire Us?
At EHB, we offer expert ceiling fan installation services, including various upgrade services like adding lights to existing ceiling fans. With one quick call to EHB, you can forget about dealing with electrical wiring, or getting up onto a ladder with a heavy ceiling fan. You don't have to risk a DIY job when an experienced electrician from EHB is only a call away. Leave the job of fan installation, replacement, or repair to experienced professionals at ECO Home Builders and have peace of mind knowing that it will be done efficiently.
• Licensed Electricians
All our electricians are fully licensed and trained. For dependable and safe operation, your ceiling fans will be installed to code.
• Reliable Service
Electricians are knowledgeable, friendly, prompt, and professional. All our electrical professionals are background checked, insured and bonded to work in your home.
• Attention to Detail
With other amateur installations, you might find fans having a significant gap. But we, on the other hand, make sure that fans are flush with the ceiling. We also make sure that the fan blades are correctly balanced for a quiet, efficient operation.
Our Services
• Ceiling Fan Installation
There are many benefits of a ceiling fan installation, especially if it is mounted properly. We can safely install all kinds of ceiling fans for you.
Our fan installation process starts by checking the electrical box in the ceiling to make sure that it is installed correctly to support the fan. Through our analysis, we will tell you whether the electrical box is sufficient or a replacement is required.
In the next step, we wire the ceiling fan. Our electrical professionals are aware of the power of electricity and are highly trained to wire electrical components safely and properly. The motors of ceiling fans are quite heavy and present difficulty in installation. We know the technicalities involved in the installation of a ceiling fan as well as all the hard wiring linked to the electrical system of your home. Furthermore, if there are lights with your ceiling fan, we will properly wire them as well.
• Ceiling Fan Repair
We are the experts at ceiling fan repairs. Does your ceiling fan shake, hum, vibrate, or stopped working completely? If it wobbles, makes a buzzing sound, or moves really slowly, then it should be inspected by a licensed electrician immediately. We will inspect and repair any type of ceiling fan professionally.
Are you ready for your ceiling fan installation? Request a free quote today! For more details call us today at 954-665-0852 or visit our click HERE and fill out a quick Form!
Follow us on Facebook.
Latest Residential Remodeling Projects